"The beauty of your eyes were illuminated by the brightness of the full moon. A moon that I thought was an omen, but ultimately became the symbol of what is good in the world with us." – Delaney and Max
Delaney and Max- wow! These two were certainly destined for each other. Not only are they beautiful individuals that together form a wonderful match, but they both have a gift for shaping words into a masterpiece for everyone there to enjoy and soak in the love they were sharing:)
Delaney and Max called I Do OBX Weddings and Events for back up with ceremony and reception rentals, officiating, and florals so that they could enjoy their time in the Outer Banks with friends, family, and of course, each other. One of the unique opportunities that I Do OBX Weddings & Events loves to provide for their couples is a (nearly) all inclusive wedding experience. We are able to provide a large portion of what you need for your Outer Banks wedding experience if you so choose. We were thankful to Delaney and Max for trusting our company with the majority of their wedding rentals and services. The couple chose the gorgeous Westside Inn on Roanoke Island, North Carolina for their event venue. 
Delaney and Max made the wise decision of hiring the wonderful Heart of Harlow to bring all the details together and the talented Brooke Mayo Photographers to document the day. Glimmer Hair & Makeup enhanced Delaney's natural beauty for her special day.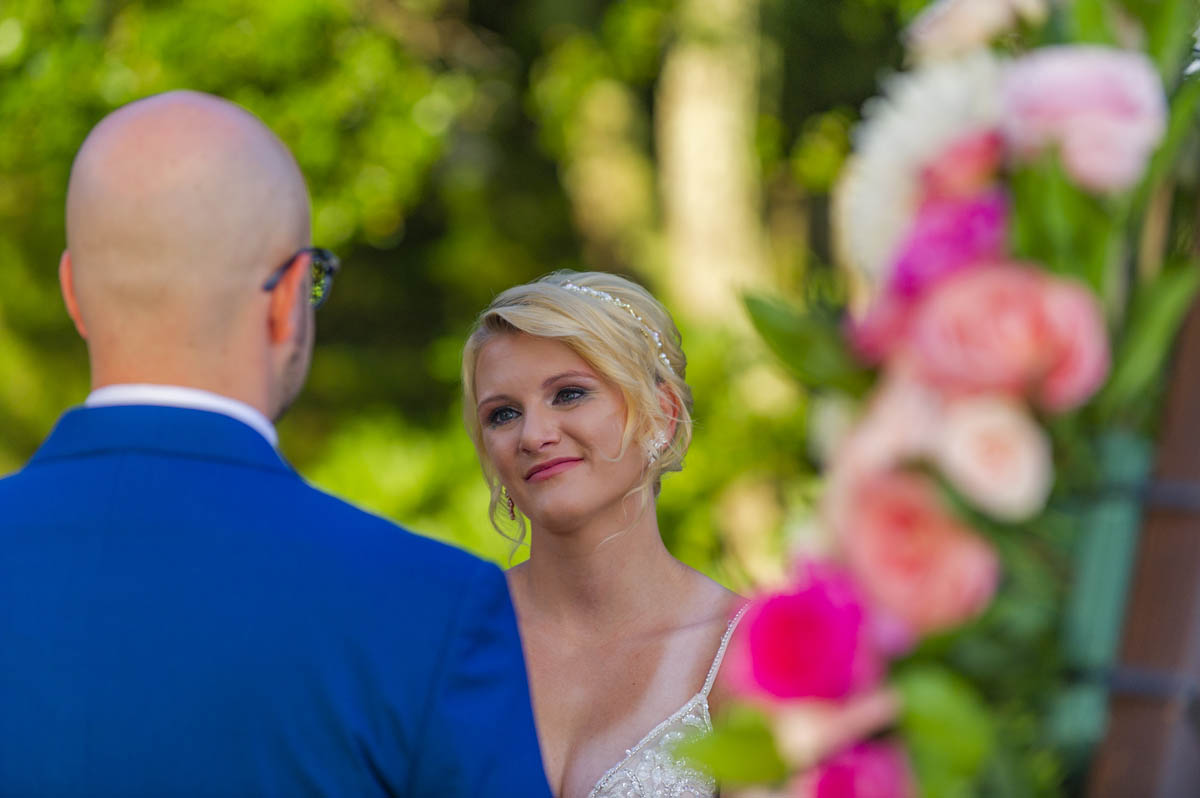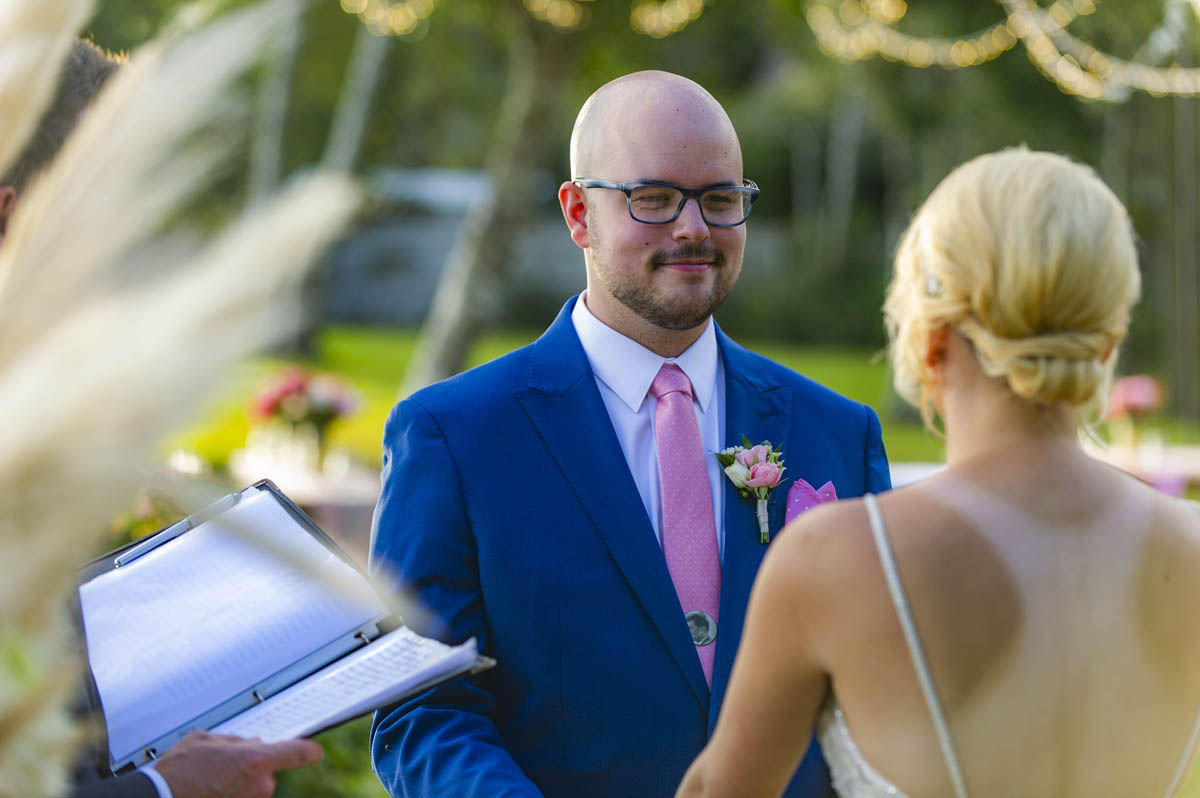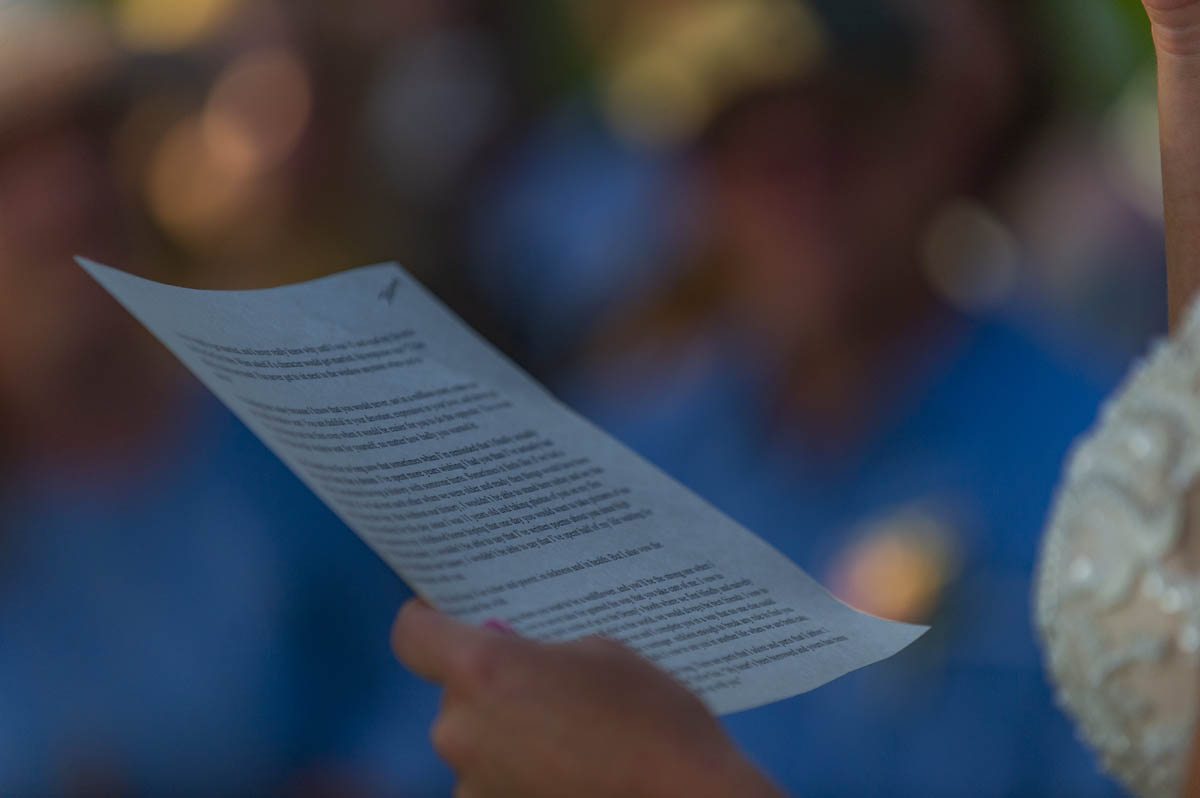 The Ceremony
The most captivating facet of Delaney and Max's Outer Banks ceremony was, without a doubt, their vows for one another. Their gifted way with words and their love for each other was clearly evident through their vows.
The arch is an important element of the ceremony that provides a backdrop for the focal point of the event, which is why we always attempt to have a modern selection available. One of the most current wedding trends includes geometric elements. Delaney and Max chose our Hexagon arch and made it their own by requesting I Do OBX Weddings and Events to wrap it in twinkling lights and florals with Outer Banks pampas grass accents. The result was stunning!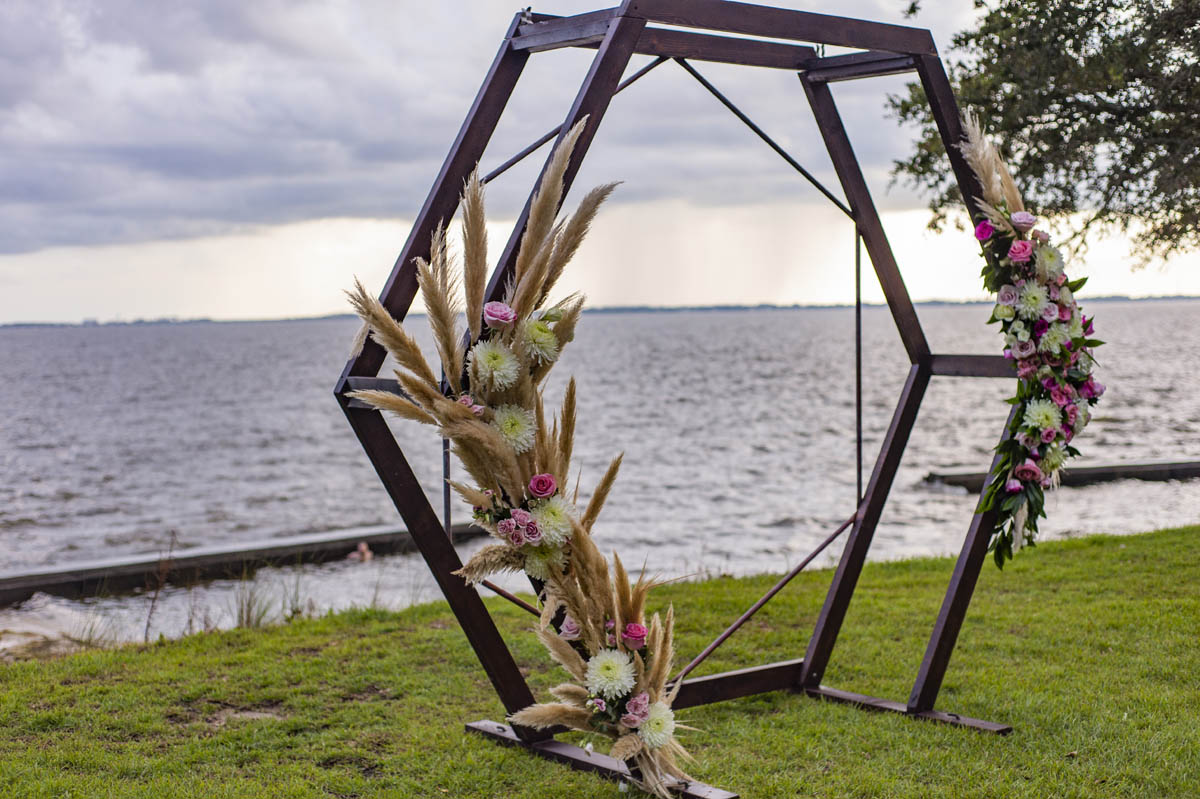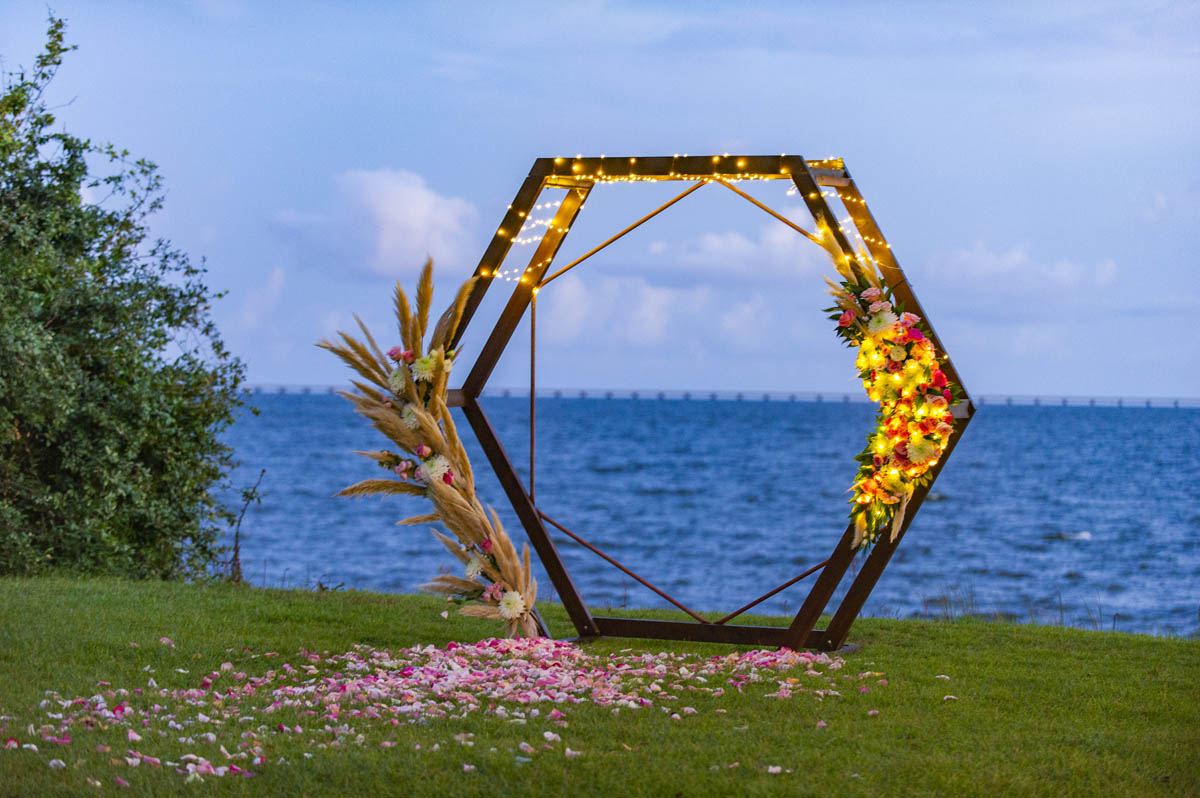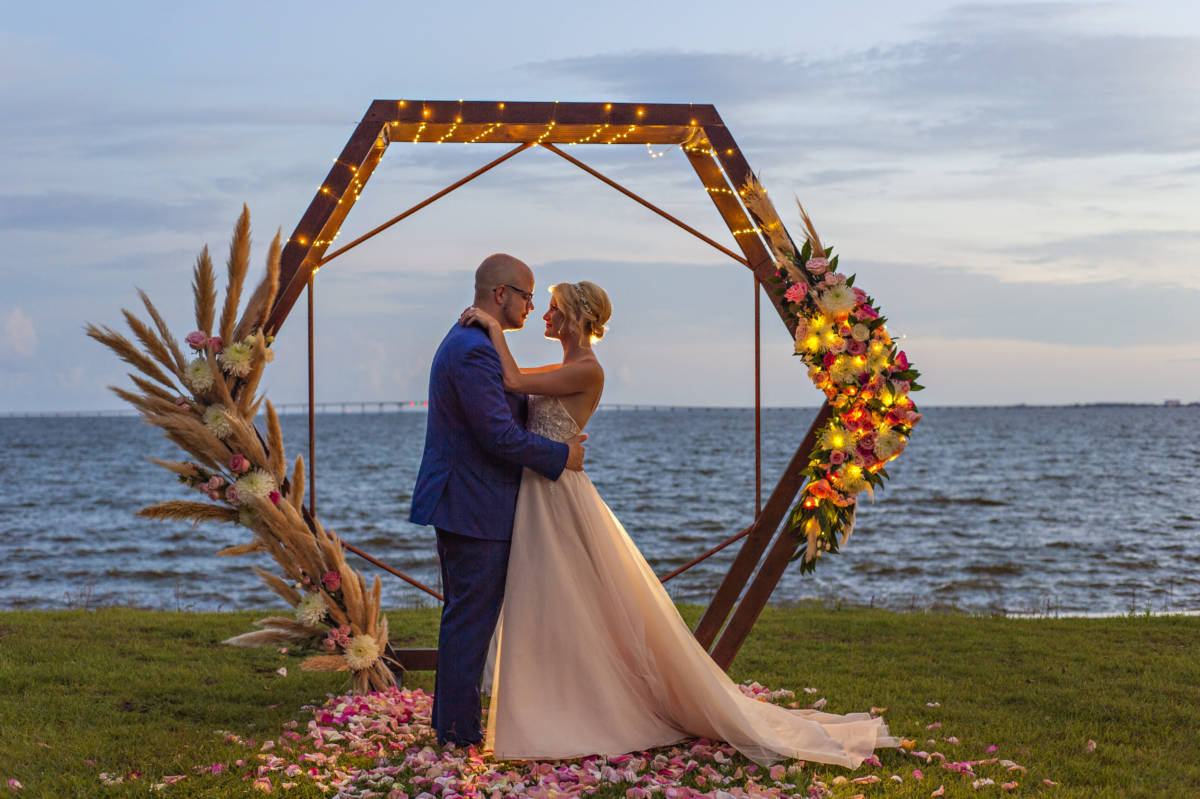 Outer Banks Wedding Officiant
Tony is our designated wordsmith and officiant at I Do OBX Weddings & Events. He was thrilled to be able to officiate Delaney and Max's ceremony on the Outer Banks. For this event not only did Tony officiate, he had the unique opportunity to serve as "flower man!"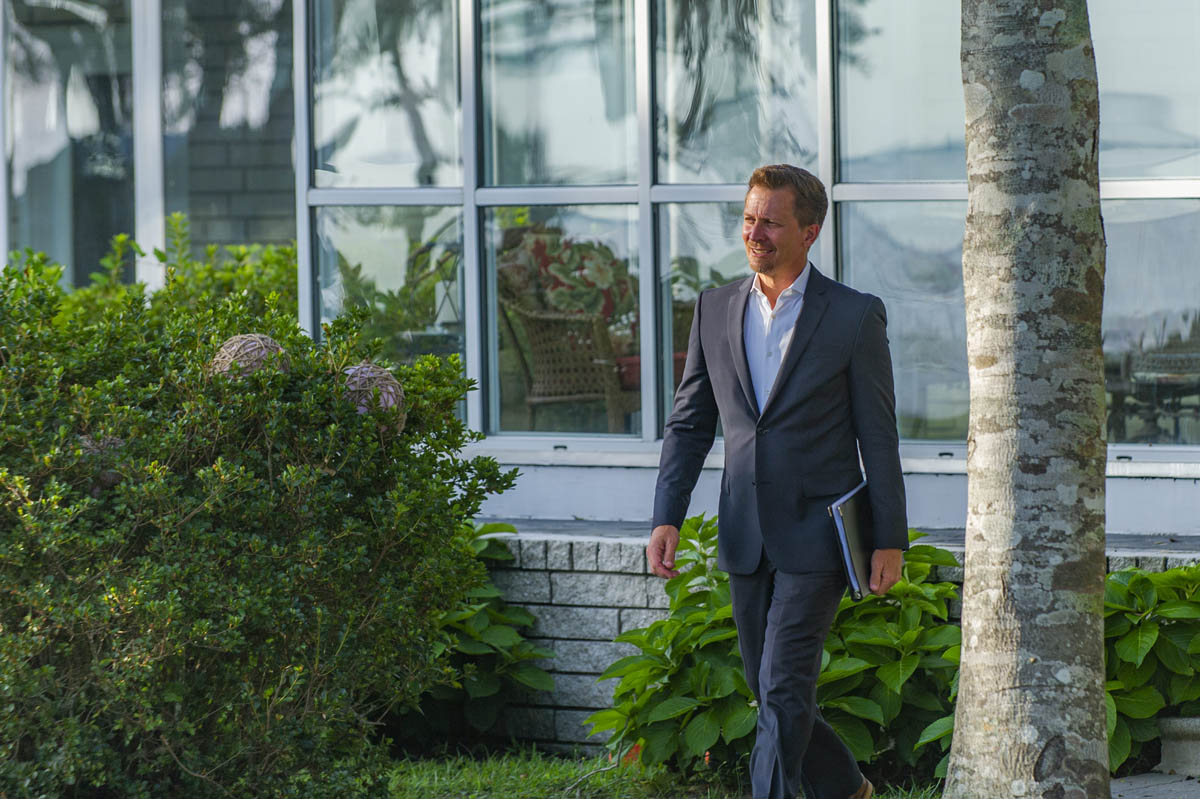 Outer Banks Wedding Florals
Our amazingly talented florist Gail provided florals for the arch, rose petals for the aisle, Delaney's bouquet and Max's boutonniere. The pink of the florals reflected the bright personalities of Delaney and Max and the pampas grass were an ode to the Outer Banks!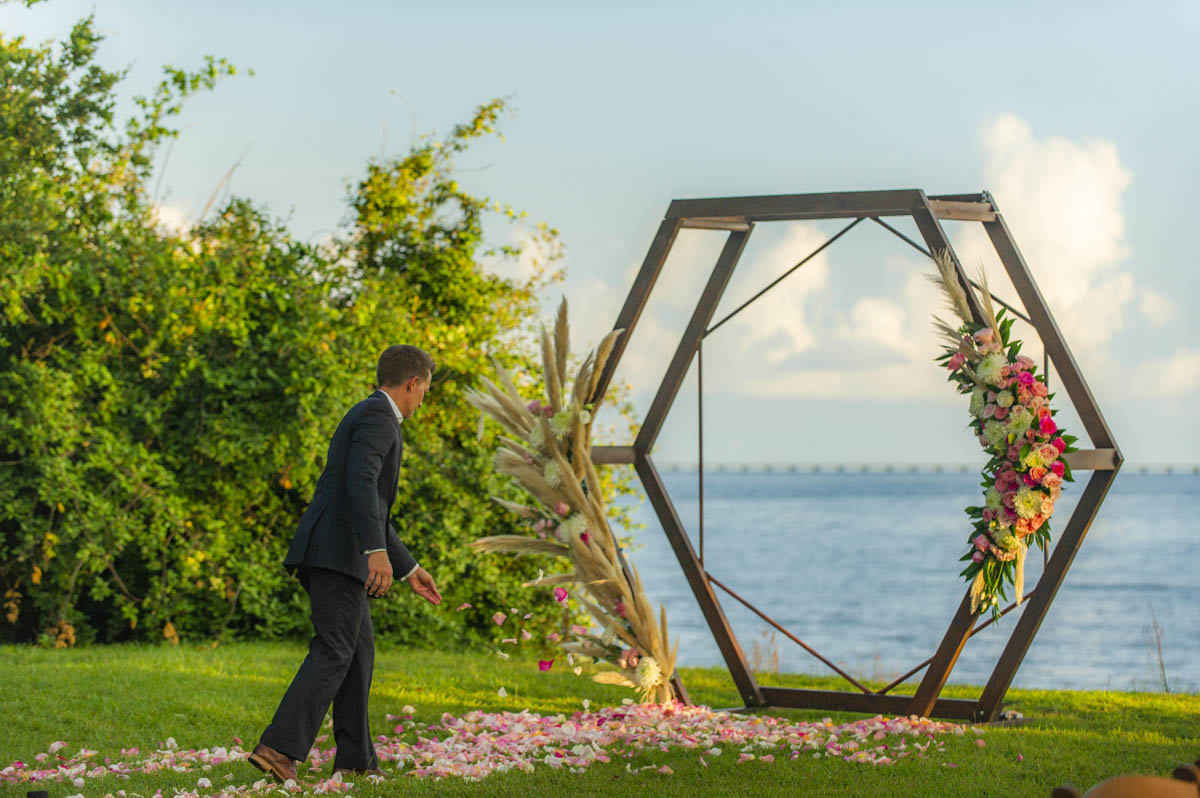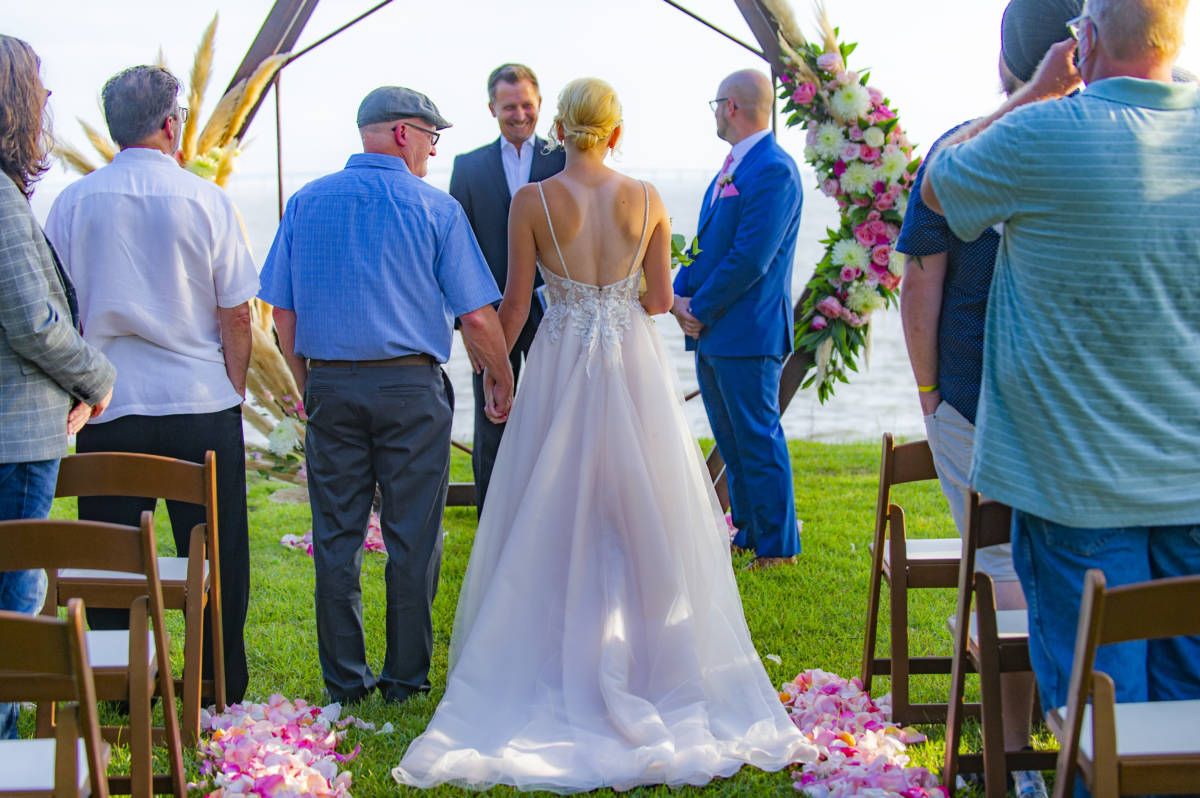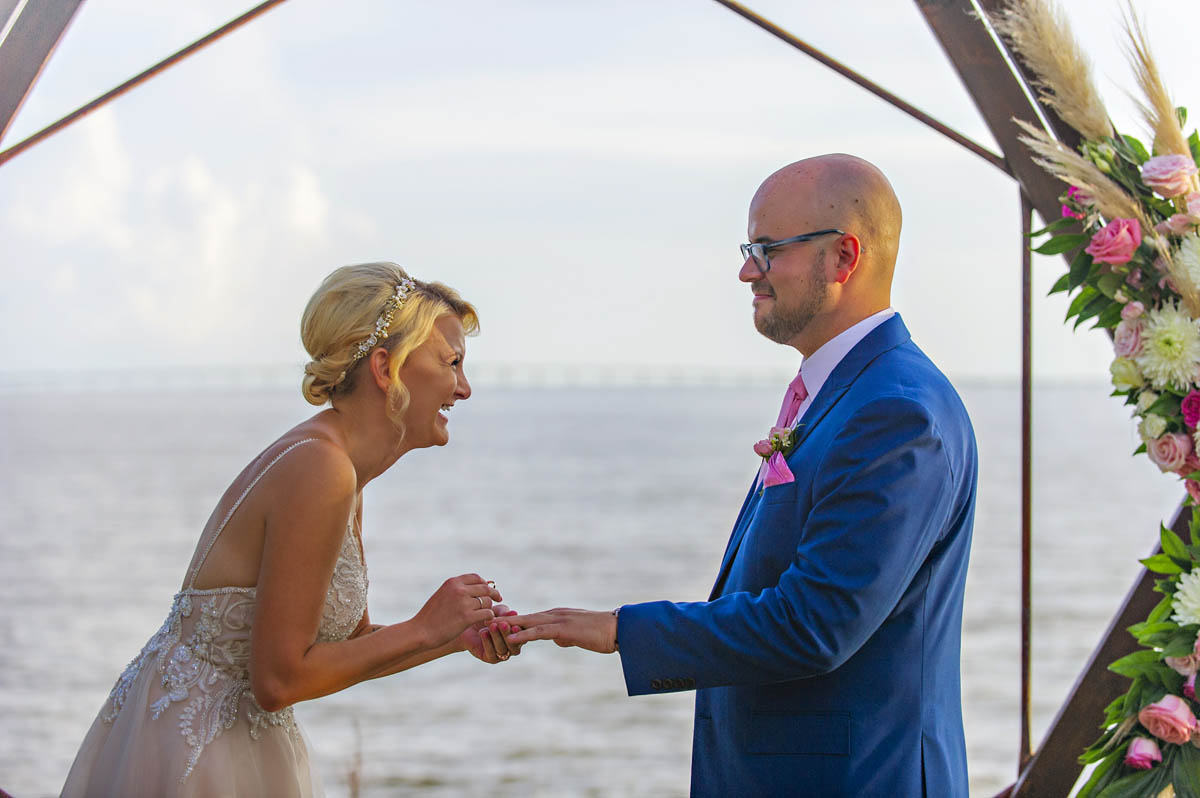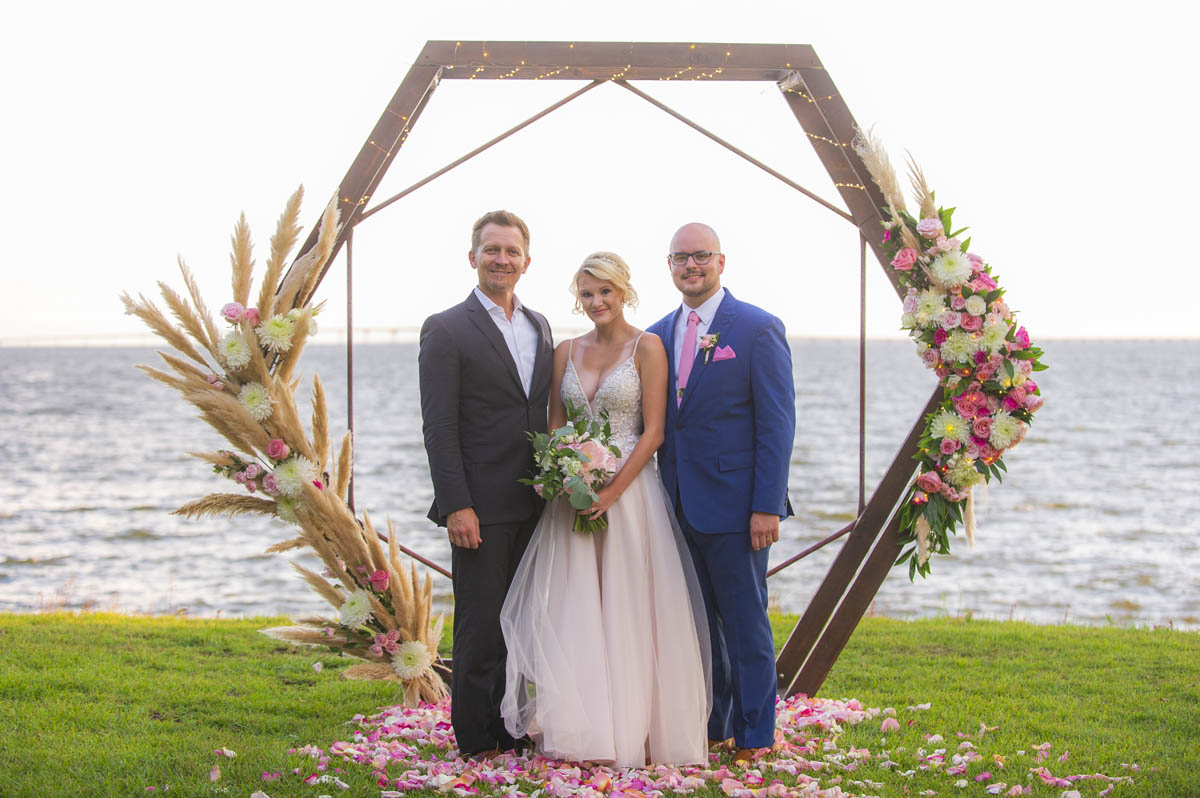 The Reception
Delaney and Max celebrated their newly minted union with their closest friends and family. They enjoyed a delicious meal by Kelly's OBX Catering, danced on their dance floor provided by Metro Rental, laughed, and created new memories together. I Do OBX Weddings & Events set up the reception area complete with wooden farm tables, seating, and lighting draped over the dance floor. We also provided a cocktail table for the cake baked by Just Desserts!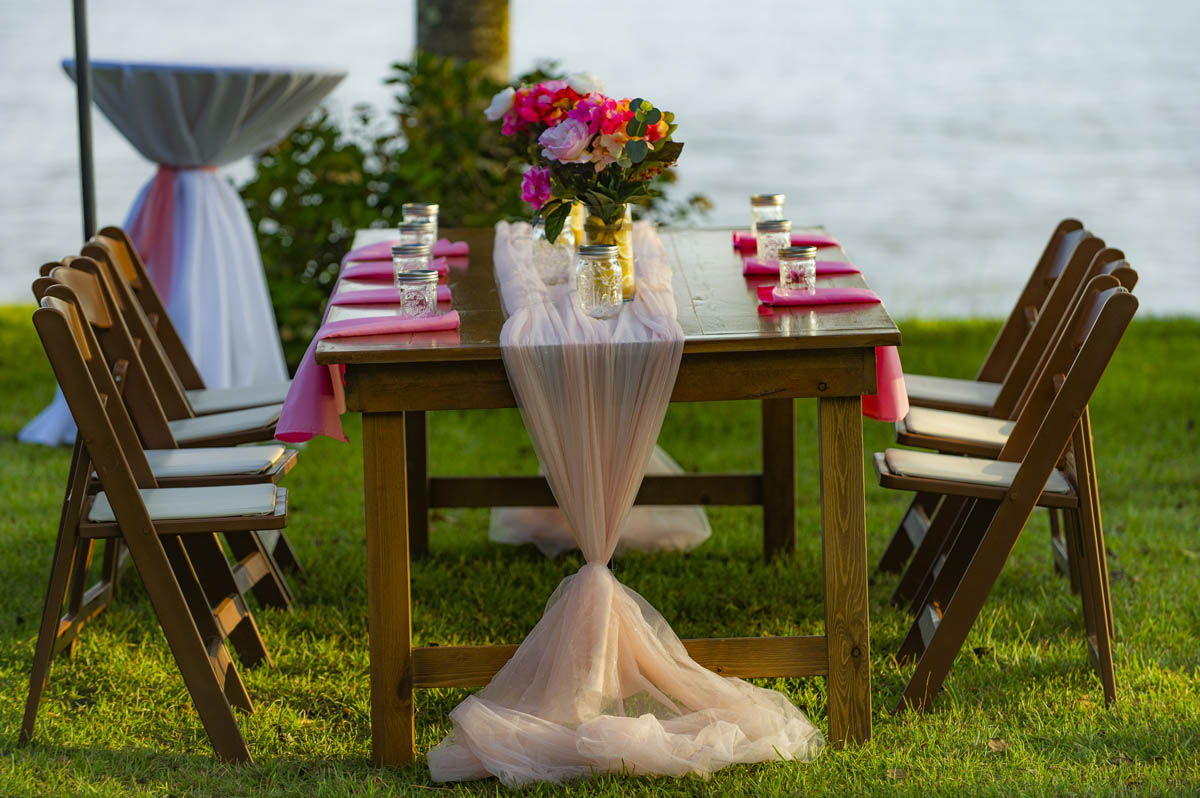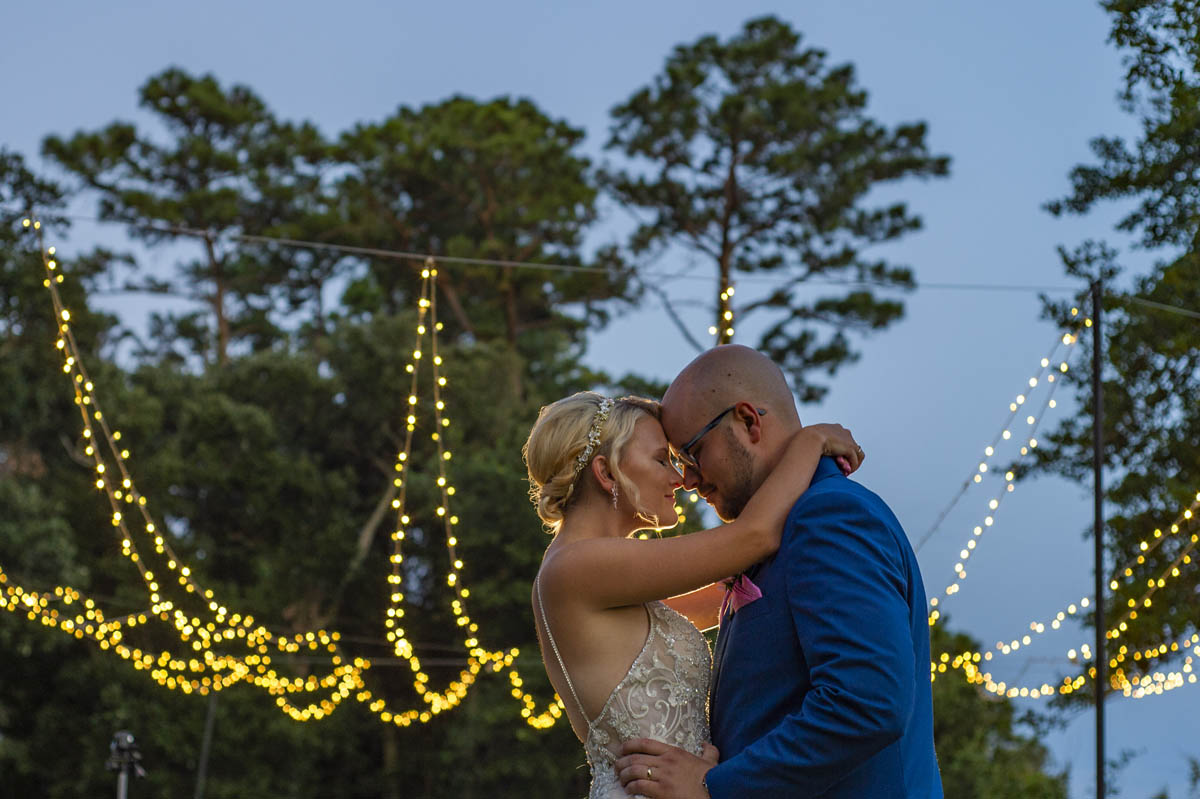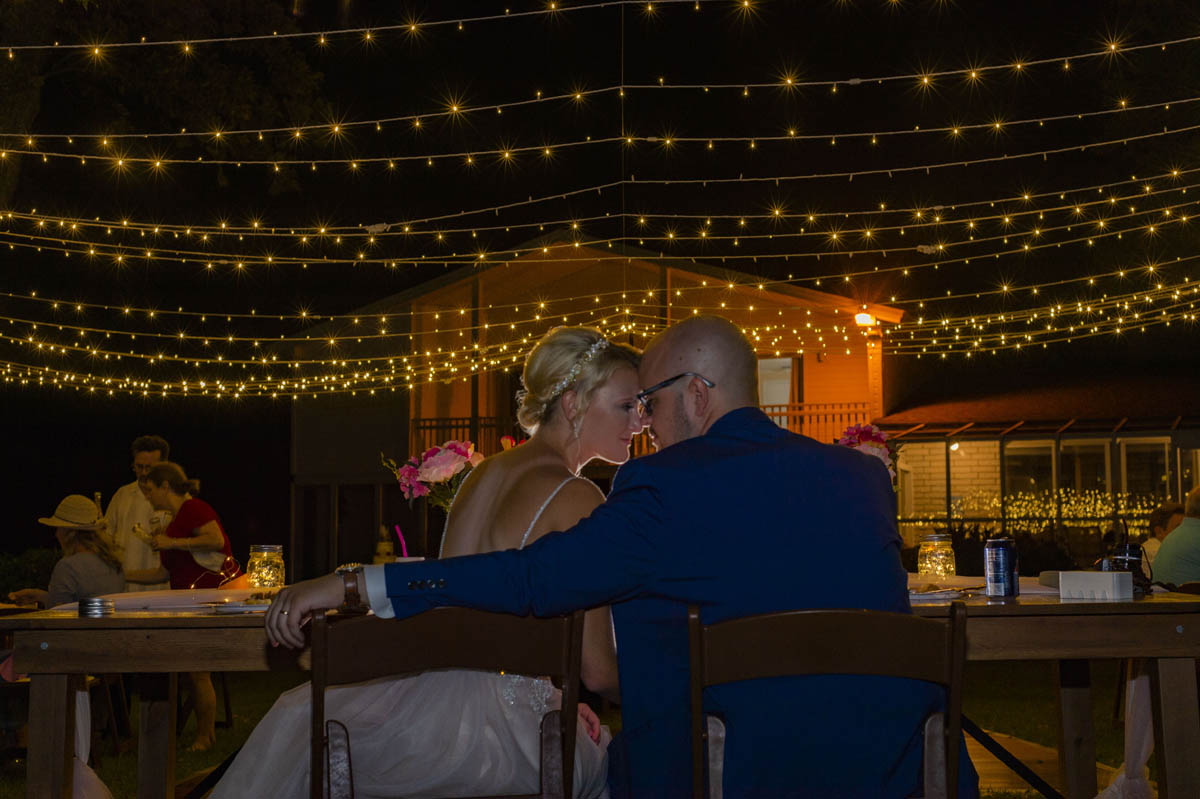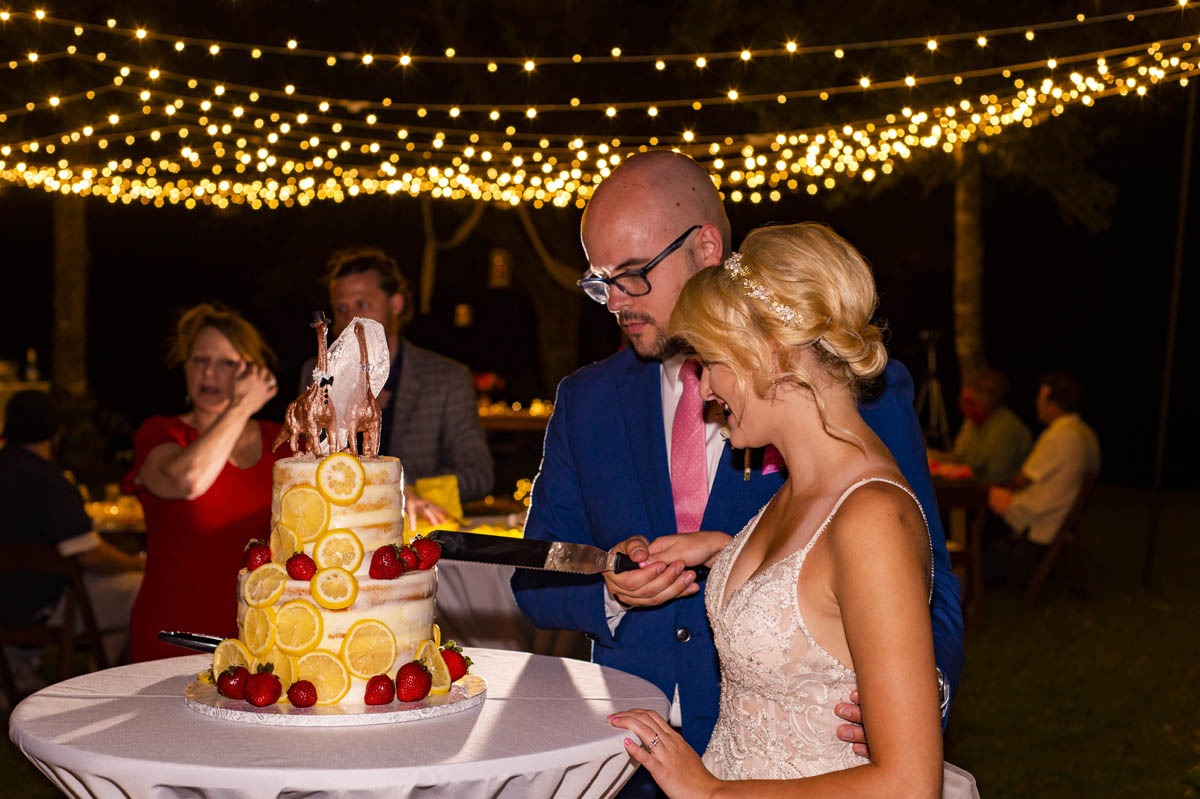 "My heart's been borrowed and yours has been blue, all's well that ends well to end up with you." – Taylor Swift
Congratulations and happily ever after to Delaney and Max from I Do OBX Weddings & Events! 🙂